RSCH Accident and Emergency Waiting Room Extension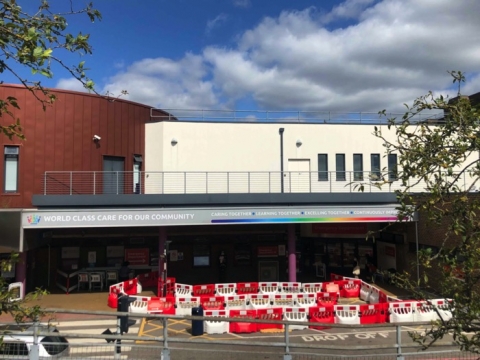 The firm have just started the Design and Contract Management an extension of the A&E waiting room for the Royal Surrey County Hospital. Restrictions during the COVID-19 pandemic meant that patients had to queue to get into A&E which was situated right by the front entrance to the main hospital. The Trust therefore decided to expand the current waiting room to increase capacity and reduce queues, and we were appointed to design and oversee the construction of the extension works to the waiting room by infilling the undercroft area by the current Emergency Department Entrance.
We are working to a very tight programme of 16 weeks from Inception and Feasibility all the way to completion scheduled for December 2020.
The Client were particularly pleased with the AEC project and asked that this infill extension employed the similar aesthetic theme with white render walls and long vertical windows. Furthermore, the same team of consultants and main contractors as in AEC were selected to work on this project.